Studyou Porto Asprela
Studyou - Student Accommodation in Porto
Private en-suite bedrooms
Utility bills
Wi-Fi 250Mbps
Security Team
Great communal spaces - Cinema and games room
Excellent location
Studyou Porto Asprela
Are you looking to study in Porto?
We have the perfect room for you! Become part of our great community and be the first to live in this brand new accommodation coming to Porto. Studyou Porto Asprela offers over 200 bespoke en-suite studios as well as great communal spaces.
Perfectly located, Studyou Porto Sprela is a 10 minute walk from the Asprela Campus ( FEUP – Faculdade de Engenharia da Universidade do Porto and the FMUP – Facultade de Medicina, a 13 minute walk from the Facultade de Desporto),  a 15 minute walk from the Universidade Lusiada do Porto and a 20 minute walk to the UPT – Universidade Portucalense. Our location is ideal for students because of the proximity to all the main campuses and Faculties. There is excellent public transport from the property to the other areas of the city.
We offer fully furnished individual en-suite studios to enjoy your private space and independence. This combined with the vibrant communal kitchen area will allow you to interact with other residents whilst you cook lunch or enjoy your dinner. Our offer is completed by our great facilities and communal areas (study areas, lounge, …).
With a comfortable and secure environment, on-site security, and a professional site team who will be there to support you, you'll have everything to help you enjoy an unforgettable student experience. In addition to our great offer, all utility bills are included within the rent (electricity, water, heating) along with high-speed Wi-Fi – no bills to worry about so you can focus on what really matters – your true university experience.
Near Studyou Porto Asprela you will find supermarkets, pharmacies, shops, bars, and restaurants.
Download and share our brochure for 2021/2022: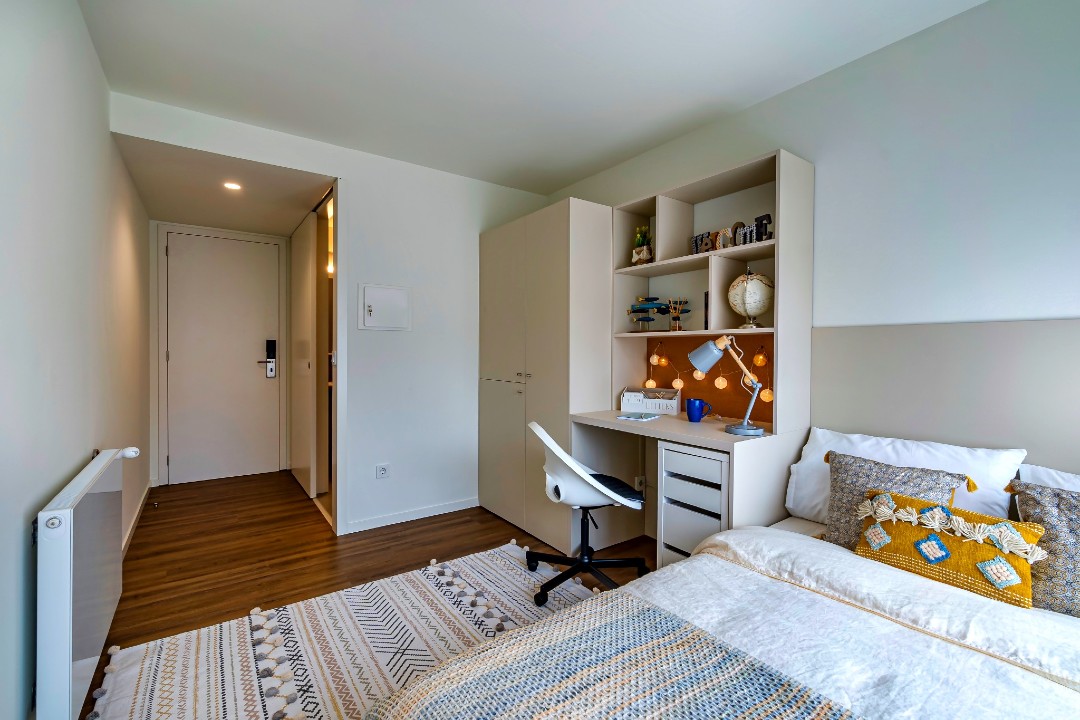 En-suite rooms
We offer modern individual en-suite studios equipped with everything you need – 120cm bed, desk and chair, storage, shelves, fridge and an en-suite bathroom.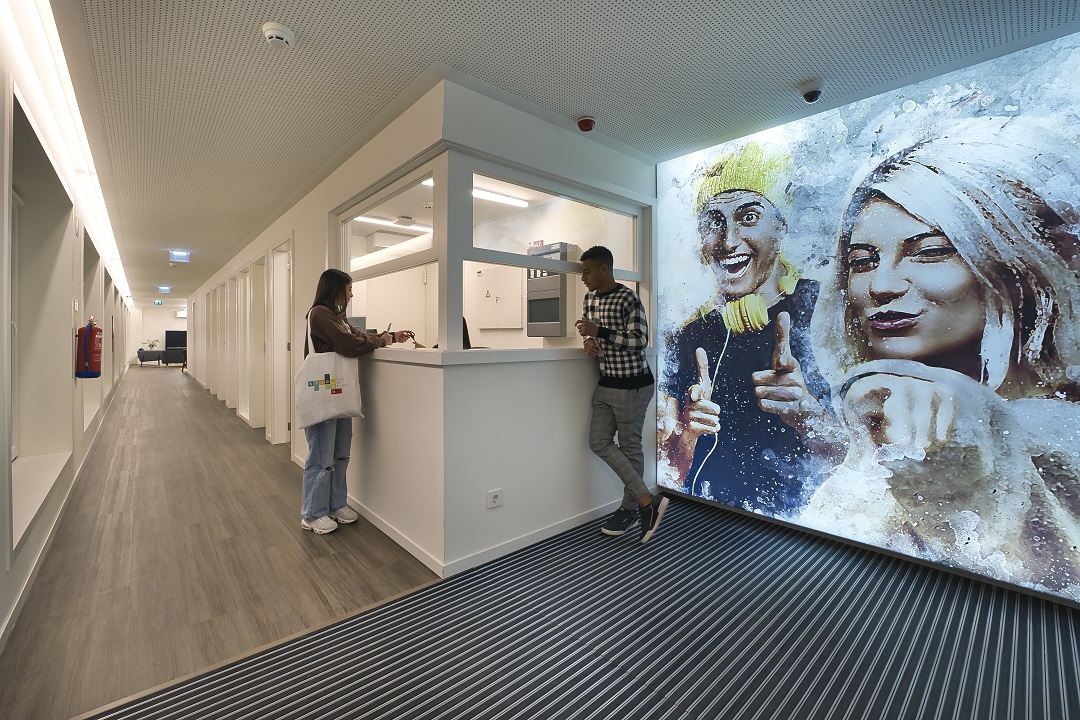 Great location
One step to the main Universities – within a few minutes' walk from Polo II Asprela and close to other Universities such as Universidade Luisiada, Universidade Portucalense.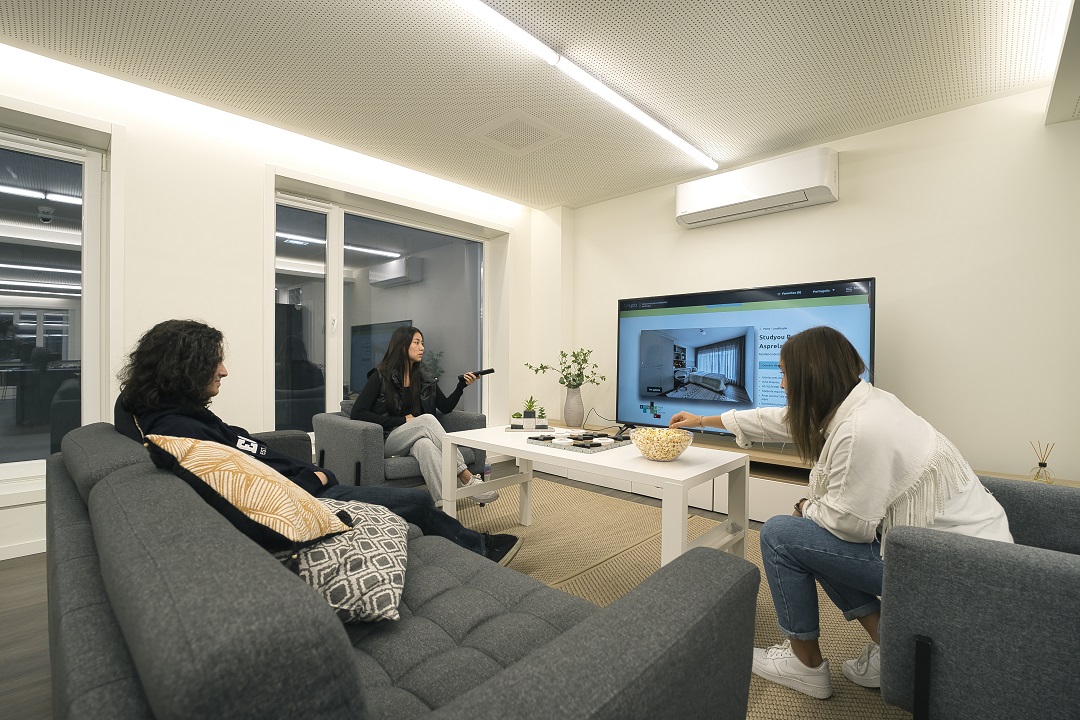 Modern facilities
Studyou Porto Asprela is kitted with all the latest facilities completely free of charge- we provide study spaces, communal kitchen, lounge, cinema, games room and laundry room. Everything you need and more.
Follow us on Instagram...
General
The deposit is €800 in total. €150 must be paid when you reserve, and afterwards we will send you your contract within 1-3 days.
You have 10 days to sign your contract as well as paying the last €700. The rent installment must be paid no later than 10 days before your check-in date.
It is possible, but you should check with the hosting team first.
If you decide to leave earlier, you will be responsible for your deposit unless you have extraordinary circumstances.
A member of the accommodation team will inspect your room approximately one week before the end of your contract, carry out an exit survey and collect your bank details for the return of the deposit. If there has been any damage to the room or apartment, it will be charged.
To the parents
In the event that something breaks or does not work in any space of the accommodation, the student must immediately inform the accommodation team.
We also have maintenance assistants available for when something is not going as planned.
We also have a local maintenance team for isolated problems. Your son/daughter will always be notified at least 24 hours in advance if a maintenance agent needs to access their room to repair something.
Do not hesitate to contact us at any time by phone or email, we would love to help you with any concerns you may have.
Yes, we have a specific storage room for packages and your son/daughter will have a mailbox to receive mail.
You can pay online, through our platform. It is the most basic form, since it is automatically credited to your child's account.
We do not accept cash.
At Studyou Porto Asprela we understand the importance of safety for students when choosing a place to live.
We currently have 24-hour CCTV cameras installed inside and outside the residence. We also have a 24-hour reception.
Economic inquiries
There are no hidden costs in our prices: electricity, water, high velocity Wi-Fi, air conditioning, use of facilities and programme of events are included in the price.
If you don't get the grades to get into your university in Porto, don't worry we will return your deposit. We will need an email from your university confirming the situation.
We do put on various promotions throughout the year- keep an eye on our website, Instagram and Facebook Page for more details.
We don't offer grants, however we do put on various promotions throughout the year- keep an eye on our website, Instagram and Facebook Page for more details.
Can't find the answer you're looking for?
Contact us or call us to request more information
For your health and well-being
We understand there is some uncertainty around what being at university will look like for the next academic year, but we are committed to trying to adapt for your safety and wellbeing. For this, we have designed a special protocol that includes regular cleaning and sanitisation of all communal spaces, social distancing as well as support from our team, whether virtually or face-to-face.
We look forward to welcoming you with the same level of support and community spirit that characterizes us. However, if you have any questions about your reservation, we invite you to contact us.
Find your perfect room
Intro text is text that introduces
Room Type
Description
Tenancy Length